AMD Ryzen 5600G belongs to the 5th generation of processors. It is assembled according to the 7nm process technology, due to which is characterized by low heat dissipation, medium overclocking potential, and an operating temperature ceiling of 95 degrees. Unlike the 5600X, it has a lower maximum overclock but has excellent integrated graphics. It is represented by the Vega 7 chip, which we talked about in more detail in the article on the best processors with integrated graphics in 2022.
This article will review the best motherboards for Ryzen 5 5600G in different price segments with and without overclocking, as well as their detailed characteristics.
HOW TO CHOOSE A MOTHERBOARD FOR RYZEN 5600G
Before giving recommendations on choosing a board for the Ryzen 5600G, it is necessary to note the main characteristics of the processor:
Manufacturing process: 7 nm;
Cores/threads: 6/12;
Base frequency / frequency in dynamic overclocking: 3.9 / 4.4 GHz;
Graphics core: Vega 7;
Thermal package: from 45 W at the base frequency;
Level 3 cache: 16 MB.
Based on the above, advice on choosing a board will be as follows:
Chipset. The best option for the processor would be the B550 chipset. The boards on it have an average price tag, have a good filling, and leave room for a little overclocking. But, if you want to get the most out of it, look towards motherboards based on the X570 chipset. They have more powerful power systems, wide overclocking options, and customization.
Form Factor For full-sized builds, it is recommended to purchase ATX boards. For compact computers, you can stop at mini- or micro-ATX, but at the same time, you need to take care of a good cooling system.
Maximum motherboard memory frequency support: Memory support in the range of 3933-4200 MHz is enough to provide a comfortable gaming experience when using the Ryzen 5 5600G.
Several RAM slots and m.2 slots. The more slots, the better. The best choice would be a board with two slots for drives and one slot for a Wi-Fi module. Thus, you will secure a place for an upgrade (if you install one drive) and you will be able to use the wireless network.
External interfaces and SLI/CrossFire support. If the main selection criterion for you is the number of external interfaces and support for technologies for working with multiple video cards, then choose based on how many and type of devices will be connected to the computer. Since the processor is not top-end, powerful video cards and their bundles of two accelerators will be redundant for it. However, if in the future you plan to replace it with a Ryzen 5900/5950X and build a top-end gaming machine, SLI/Crossfire support will be a nice bonus with the ability to install another video card.
BEST MOTHERBOARDS FOR RYZEN 5 5600G
1. ASUS TUF GAMING X570-PRO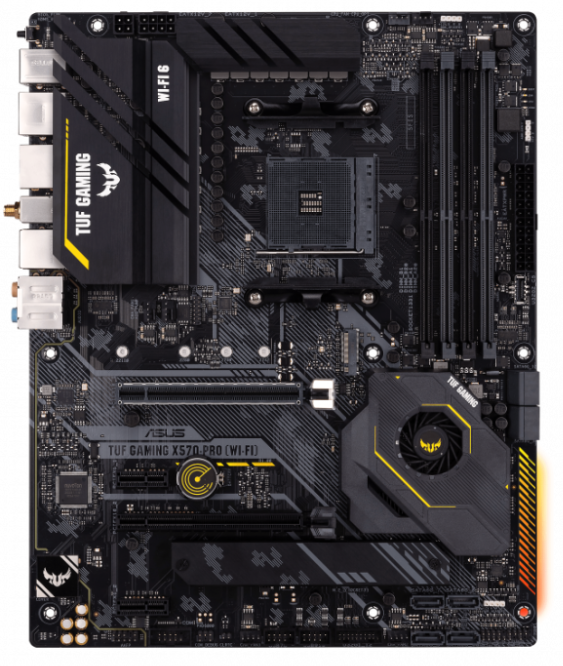 The best motherboard for Ryzen 5 5600G. Compatible with 5000, 4000, 3000, and 2000-series processors and their G-Versions. The board components are placed on a high-quality 6-layer textolite that can withstand the weight of heavy air cooling systems and video cards. The power system is optimized for high loads. 14-phases are spaced apart in a 12 + 2 system, where 12 modules fall on the processor, and 2 on the RAM. The chipset cooling system includes a high-speed fan coupled with a small aluminum heatsink. The VRM cooling system is represented by a massive heatsink with TUF Gaming's signature style. Additionally, the Fan Xpert 4 utility is built-in for adjusting coolers.
To install m.2-format drives, two ports are provided, made according to the PCIe 4.0 standard. Responsible for the sound is the Realtek S1200A audio codec with a signal-to-noise ratio of 108 dB for stereo line output and 103 dB for input.
2. GIGABYTE X570 AORUS XTREME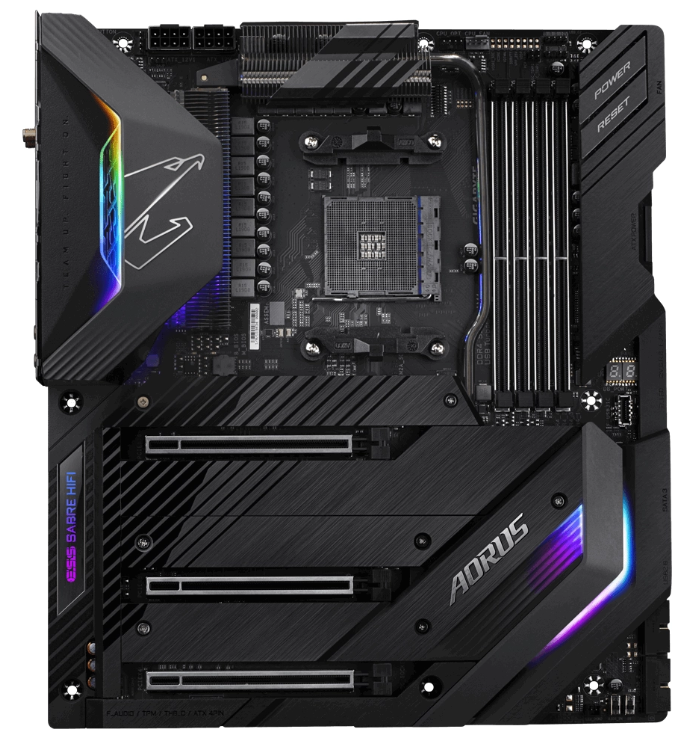 Motherboard for Ryzen 5600G. A distinctive feature of the motherboard is a powerful cooling system that covers 70% of the entire PCB area. The VRM module consists of 16 power phases (load per phase up to 70 Amperes), they are cooled by a massive aluminum radiator. Additionally, the system is equipped with an aluminum tube that dissipates heat and plates of nano-carbon coating. A total of three m.2 connectors are available. for connecting high-speed drives and other compatible devices. 4 RAM slots are equipped with the ECC/Non-ECC function, allowing the modules to be used without buffering in dual-channel operation.
The board has a proprietary RGB Fan Commander module, which is necessary for modding. With the TurboCharger tool, you can quickly charge USB devices when connected to the ports.
Form factor: E-ATX;
Chipset: X570
Number of RAM slots: 4;
Maximum RAM frequency: 4400 MHz;
Maximum RAM: 128 GB;
Network adapter: Intel® i211AT GbE LAN;
Power phases: 16.
3. ASROCK B550M STEEL LEGEND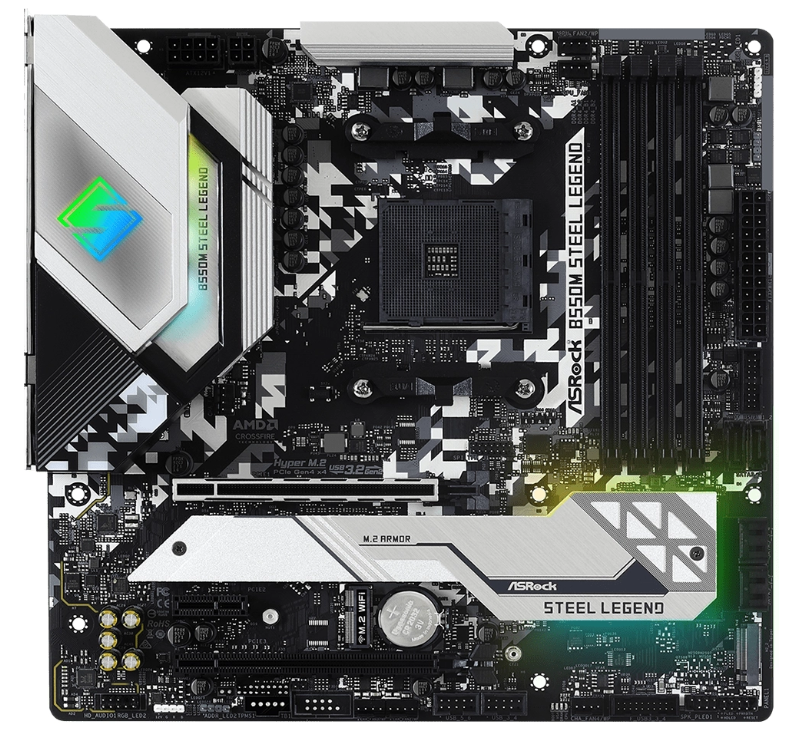 Compact motherboard for Ryzen 5600G from ASRock. Unlike previous models, it supports 5000, 4000, and 3000 series processors. A distinctive feature was the black and silver paint scheme and the illumination of the radiators on the VRM zone and the hybrid bridge. 12 power phases with voltage up to 50 Amps each, cooled by thick and multi-layered aluminum plates. The board is equipped with one M.2 slot for connecting high-speed drives, made according to the PCIe 4.0 standard. The slot is closed from the factory with a branded radiator, which eliminates the need to buy additional cooling elements on your own.
If the BIOS settings are incorrect or it fails, the owner can use the reset button on the rear panel. Buyers note the high quality of the board and a clear BIOS interface.
Form factor: Micro-ATX;
Chipset: B550
Number of RAM slots: 4;
Maximum RAM frequency: 4533 MHz;
Maximum RAM: 128 GB;
Network adapter: Dragon RTL8125BG;
Power phases: 12.

4. GIGABYTE B550 AORUS PRO AC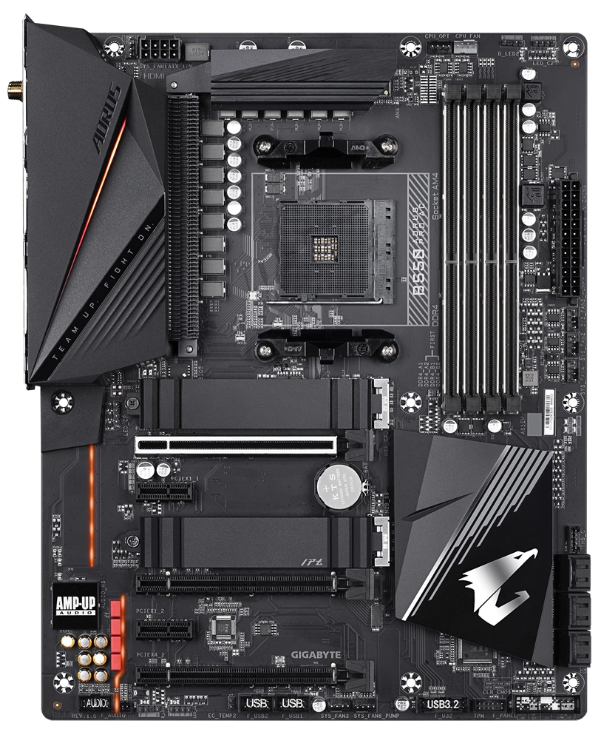 Board of the middle segment of the AORUS line. It differs from competitors by a very large cooling array of the VRM zone, consisting of 14 phases – 12 for the processor, and 2 for RAM. The array consists of several aluminum plates with a heat pipe, which allows better distribution of heat from the components. To install compact high-speed drives m.2, two slots are placed on the board at once. Both are equipped with complete Thermal Guard radiators. To organize a small Wi-Fi network, the manufacturer has provided a dual-band Intel 802.11ac / BT 4.2 module. To distribute the signal, you can use the complete AORUS antenna.
In addition to the built-in lighting strips, RGB Fusion 2.0 can be used to connect additional RGB LED strips.
Form factor: ATX;
Chipset: B550
Number of RAM slots: 4;
Maximum RAM frequency: 5400 MHz;
Maximum RAM: 128 GB;
Network adapter: Realtek RTL8125B;
Power phases: 14.
5. ASROCK B550 PRO4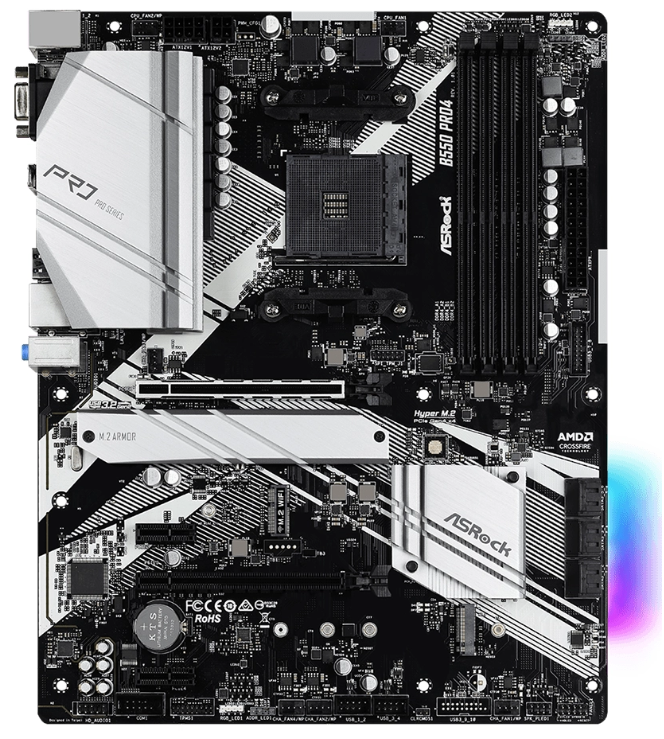 A board designed for overclocking and use with 4 and 6-core processors. This is a kind of compromise between design and performance, as hinted at by a number of details. The processor connection port is branched into 2 parts 8 + 4-pin and at some distance from each other. On the textolite there are 3 m.2-slots: 2 for drives and 1 for connecting a Wi-Fi module. When installing two M.2 drives, the user will have to buy 1 radiator, since only the top port is equipped with a cooling system. All components are placed at a sufficient distance from each other, which ensures minimal heating over the entire area of ​​the textolite.
The lack of massive cooling systems and 8 power phases limit overclocking at the average level. Of the frills, you can note the backlight near the SATA ports. Thus, the manufacturer managed to create a good value product. The fee can be found in many stores for less than 10,000 rubles.
Form factor: ATX;
Chipset: B550
Number of RAM slots: 4;
Maximum RAM frequency: 4533 MHz;
Maximum RAM: 128 GB;
Network adapter: Realtek RTL8111H;
Power phases: 8.
6. MSI MPG B550 GAMING CARBON WIFI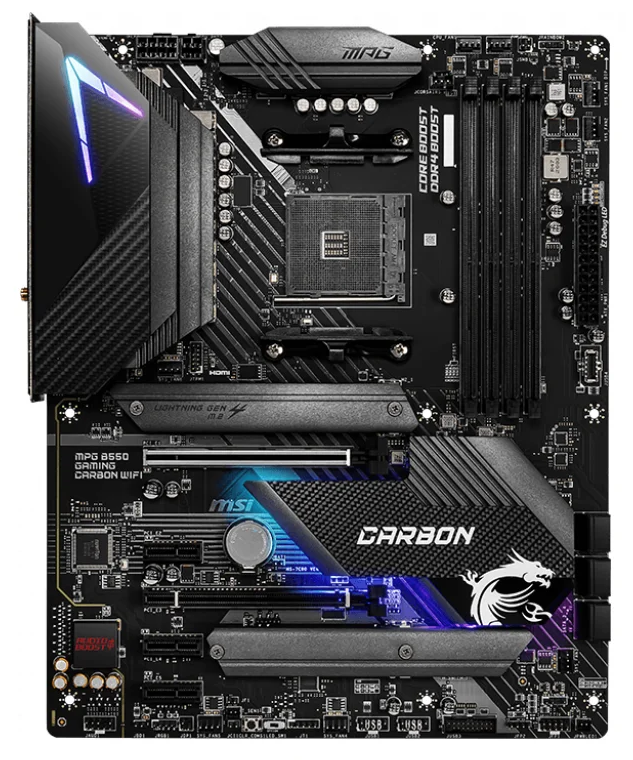 Cool MSI board for darkly stylized builds. In addition to a convenient BIOS, it is equipped with proprietary Core Boost technology. It allows you to optimally distribute the current on a 14-phase power system (up to 50 Amps per phase), reducing the risk of overheating and power surges. The PCB itself is made up of 6 copper-rich layers to reduce element temperatures and increase overall life. PCI-E slots are equipped with metal protection against interference and damage.
The rear panel, equipped with modern ports for any task, deserves special attention. To implement a wireless Wi-Fi network, there is both a port for connecting antennas in the form of a Wi-Fi 6 AX200 module, and the antennas themselves included in the package.
Form factor: ATX;
Chipset: B550
Number of RAM slots: 4;
Maximum RAM frequency: 4866 MHz;
Maximum RAM: 128 GB;
Network adapter: Realtek RTL8125B;
Power phases: 14.
CONCLUSIONS
This article reviews the best motherboards for the Ryzen 5 5600G. I would like to note that all of them are perfectly adapted to work with this processor, but which one to choose should be based on personal preferences and financial capabilities.